2019
OCT
Cards, Dominoes & Pool Friday – Every Friday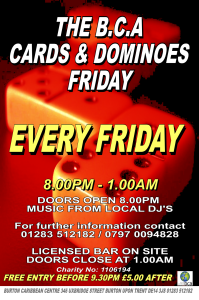 The B.C.A Community Centre will be opening on Friday evenings between the hours of 8.00pm and 1.00am. This weekly event will be know as Cards, Dominoes & Pool Friday.
You are invited to come & listen to good music played by some of our local DJ's, eat good food, have a drink in our very competitively priced bar, and as the title suggests, play cards, dominoes & pool.
Please be aware that this event will only be taking place in the bar area and it will be free entry.
Music from local DJ's
8.00pm – 1.00am
~~~~~~~~~~~~~~
BLACK HISTORY MONTH  **Opening Night**
Sat 5th Oct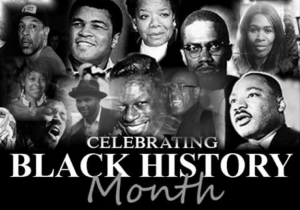 On Friday 25th October 2019 The Burton Caribbean Association will be hosting The Black History Month **Grand Finale Event**
This year's theme is
'BLACK HISTORY, LOCAL HISTORY'
For your entertainment we will have Donald Campbell, Chairman of TNCMC (The National Caribbean Monument Charity).  A charity that raise funds to create a lasting legacy to remember Caribbean Heroes, Andy Biddulph who will be talking about Ancient Black History & the Birth of Civilisation, Jaimi (Solo Singer & Guitarist), Stafford Brooks (Former Police Officer), Geneva (Soloist), Interview with Children of the Windrush Generation & Richard Harrison (Soul Singer).
This will be a FREE event and Caribbean Food will be on sale. Tell your friends and family.
~~~~~~~~~~~~~~
Sat 12th Oct
Reggae Night – Reggae Band  'The HarmZouse Band'
Show time 11.30pm
Admission £5.00
~~~~~~~~~~~~~
Fri 25th Oct
Black History Month – Grand Finale
~~~~~~~~~~~~~
NOV
Northern Soul & Motown – Sat 2nd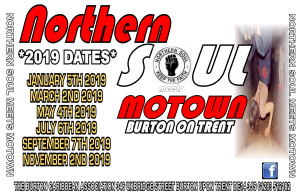 Doors open at 8.00pm through to 1am
Northern Soul & Motown all night.
Entry £5.00
~~~~~~~~~~~~~~
DEC
Sat 14th Dec
Christmas Dinner / Dance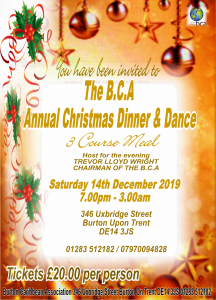 Doors open at 7.00pm & closes at 3.00am
3 course Christmas Dinner & Dance including Wine, Tea & Coffee