2020
JAN
Cards, Dominoes & Pool Friday – Every Friday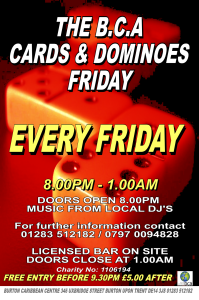 The B.C.A Community Centre will be opening on Friday evenings between the hours of 8.00pm and 1.00am. This weekly event will be know as Cards, Dominoes & Pool Friday.
You are invited to come & listen to good music played by some of our local DJ's, eat good food, have a drink in our very competitively priced bar, and as the title suggests, play cards, dominoes & pool.
Please be aware that this event will only be taking place in the bar area and it will be free entry.
Music from local DJ's
8.00pm – 1.00am
~~~~~~~~~~~~~~
Burton Salsa Social – Sat 25th
After a break in November and December The Burton Salsa Team are coming back again with its monthly Salsa Socials in Burton on Trent.
For January's event we will have an intermediate turn pattern that will be taught by Trev (Salsa Freestyle). He will then be joining the other DJs on the decks playing some of those Salsa, Bachata, and Kizomba tracks that you all like to hear.
Doors open at 8pm in time for the Salsa Class at 8.30pm.
Early bird tickets are available for £5.00 by texting me on 07970094828 or email Trev.wright@yahoo.co.uk
On the door price will be £8.00.
For this months event we will be operating an open deck policy, so any local DJs that would like to spin a few tracks please message me before the 18th January 2020.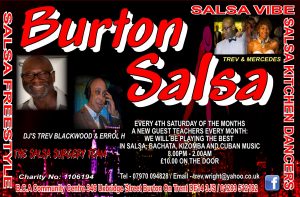 ~~~~~~~~~~~~~~
FEBRUARY
Big People Red & Black Valentine's Reggae Special – Sat 15th Feb
The Big People Red and Black Valentines  Reggae Special will be taking place on Saturday 15th February 2020
on the Decks we will have **DJ Selecta- B** DJ Stylus, DJ Eza and **Trev & Mercedes**. Doors open at 8.30pm – late.
Tickets £8.00, £10.00 on the door.
The theme for this event will be red and Black but not compulsory .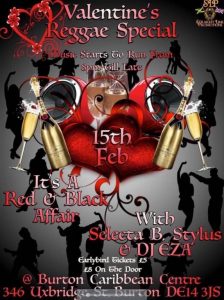 ~~~~~~~~~~~~~~
MARCH 
Northern Soul & Motown – Sat 7th 
Doors open at 8.00pm through to 1am
Northern Soul, Modern Soul & Motown all night.
DJs on the night: BACKO & ERROLH
Entry £5.00
~~~~~~~~~~~~~~~
Sat 4th April
Fund Raiser for TNCMC (The National Caribbean Monument Charity)
To help raise money for this charity.  £500,000 has to be raised to pay for a monument which will be placed at The National Memorial Arboretum in Alrewas.  This is to represent the black soldiers that fought in the WWI & WWII
Black Tie Event
More details to come……
~~~~~~~~~~~~~~~