2019
MAY
Cards, Dominoes & Pool Friday – Every Friday
Starting on Friday 24th May 2019 The B.C.A Community Centre will be opening on Friday evenings between the hours of 8.00pm and 1.00am. This weekly event will be know as Cards, Dominoes & Pool Friday.
You are invited to come & listen to good music played by some of our local DJ's, eat good food, have a drink in our very competitively priced bar, and as the title suggests, play cards, dominoes & pool.
Please be aware that this event will only be taking place in the bar area and it will be free entry. After 9.30pm entry will be £5.00 for non members, so get there early to avoid disappointment.
Music from local DJ's
8.00pm – 1.00am
~~~~~~~~~~~~~~
Burton Salsa Social – Sat  25th May 2019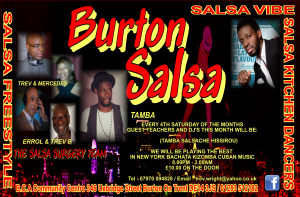 ON SATURDAY 25TH MAY 2019, THE GUEST TEACHER FOR THE BURTON SALSA SOCIAL WILL BE EVERY ONES FAVOURITE TAMBA WHO WILL BE TEACHING ONE OF HIS BRILLIANT SALSA CLASSES.
TREV BLACKWOOD, DJ ERROL H, AND TREV (SALSA FREESTYLE) WILL BE ON THE DECKS PLAYING ALL OF THE TRACKS YOU LOVE TO HEAR.
DOORS WILL OPEN AT 8.00PM IN TIME FOR THE CLASS AT 8.45PM AND WE WILL BE GOING THROUGH UNTIL 2AM.
ON THE DOOR PRICE £10.00.
~~~~~~~~~~~~~~
AUG
Prostate Screening Programme – Sat 3rd Aug 2019
Screening between 10am – 5pm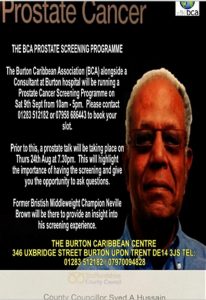 ~~~~~~~~~~~~~~
Annual Ladies Night – Sat 3rd Aug 2019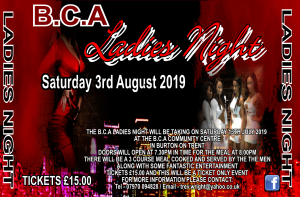 On Saturday 3rd August 2019 The B.C.A Community Centre will be hosting this years Annual Ladies Night.
The highlight for this event will be that some of the senior male men from the community will be doing the catering and serving of the 3 course meal for the LADIES.
Tickets for this one off event will £15.00 a head and we are limiting the numbers to 50 paying female guests.
Doors will open at 7.30pm in time for the meal to be served at 8.00pm.
Tickets for this event will be available by emailing me on
trev.wright@yahoo.co.uk or call 07970094828.
Gentlemen, please extend this invitation to your wives, partners or female friends.
~~~~~~~~~~~~~~
SEPT
Northern Soul & Motown – Sat 2nd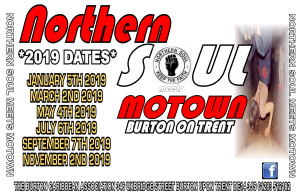 Doors open at 8.00pm through to 1am
Northern Soul & Motown all night.
Entry £5.00
~~~~~~~~~~~~~~